The team at Auto Trim DESIGN, the leading Canadian specialist in signage and vehicle wrap design and production, has nicknamed its new Kongsberg C64 digital cutting table 'The Beast' after being impressed by its incredible combination of speed and power.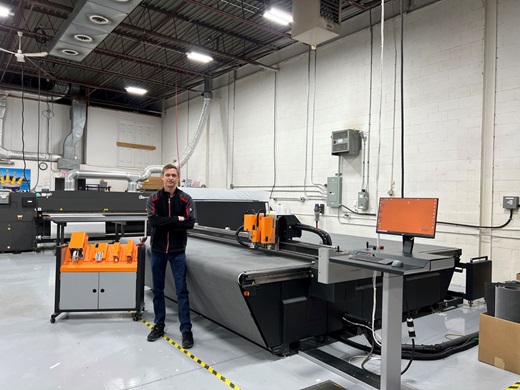 As part of a 47-member organization focused on delivering high quality signage and wrap products across Canada and the USA, the Auto Trim facility in Concord was looking to increase capacity and expand its product portfolio. "We recognized a need to deliver more jobs faster and were exploring additional avenues of revenue by offering new services to customers, such as packaging products," said Kaleb Hosie, Vice President of Auto Trim DESIGN Inc. "We wanted to invest in new equipment that would help us boost productivity and diversify our offering, and the digital finishing system from Kongsberg Precision Cutting Systems has more than delivered."
Auto Trim installed the Kongsberg C64 cutting table, together with Dual Heavy Duty Unit, 3kw router, innovative Kongsberg CorruSpeed tool and Fast Tool Adapter, with an automated conveyor and roll-off unit completing the setup.
"For more than 35 years, our success has been earned by delivering to high standards in time-sensitive environments with precision, accuracy and care," said Kaleb. "Our customers trust us to create, design and deliver signage and vehicle wraps that are perfect and consistent. It is therefore hugely important to us that whatever equipment we use maintains these high standards, while also enabling us to meet the growing demands of our customers.
"The Kongsberg C64 not only delivers the greatest levels of cutting accuracy and consistency, but the automation, Dual Heavy Duty Unit and Fast Tool Adapter means we can get through the toughest jobs quicker than ever," he said. "It's such a powerful machine that we've nicknamed it 'The Beast'."
Vince Tuccitto, Kongsberg Precision Cutting Systems Territory Sales Manager for Eastern Canada, said the combination of the Kongsberg C64 and conveyor roll-off unit means the Auto Trim team have eliminated the chance of damaging material while it is moving along or from the cutting table. "Thanks to its automation, the C64 registers and cuts quickly, and then deposits material on the conveyor with perfect alignment to ensure consistent production with the next step in the workflow," he said.
"With state-of-the-art engineering and aerospace technology, the Kongsberg C Series is renowned for delivering the very highest levels of performance," he added. "The C64 combines an aluminum composite tabletop, a rack and pinion drive system and dynamic table mapping for optimum results."
The addition of the Dual Heavy Duty Unit makes it possible to cut, crease and perforate a single job without the need to change tools, delivering the productivity speed that Auto Trim needs, without any compromise on accuracy.
"Productivity is boosted further by Multi-Zone production on the C64, which allows two sheets to be loaded simultaneously," said Vince. "The Multi-Zone operation mode allows an operator to prepare one zone, while the table processes the other, with automatic change when a zone is completed. This dramatically increases productivity and performance."
For more on the
Kongsberg C series
, the
Kongsberg Dual Heavy Duty Unit
or the entire range of
digital finishing solutions
and tools visit
www.kongsbergsystems.com
For more on Auto Trim DESIGN Inc. visit
autotriminc.com
.