Award-winning Sree Lakshmi Printing and Packaging has invested in the versatile Kongsberg X24 to help meet the growing demand for short run and sample-making, strengthening its position as one of India's leading manufacturers and suppliers of corrugated rolls and packaging boxes.
Mr. N Padmanabhan, Managing Director, of the Hosur, Krishnagiri-based company, said that as competition has increased in the corrugated packaging market, customers have been focusing more on customization and personalized packaging solutions. "Our range encompasses customized corrugated boxes, fiberboard, heavy duty, and paper corrugated boxes as well as corrugated rolls," said Mr. Padmanabhan. "The customization and personalization trend has really driven the demand for short run and sample-making, which is vital for us as it allows us to visualize and approve customized designs before bulk production," he said.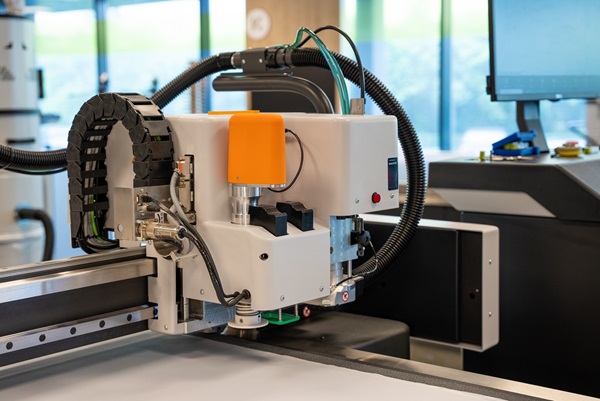 "We wanted to add to our facility with a machine that would address our current sample-making and short-run production needs, producing accurate die-like finish samples for all types of corrugation boards from micro flute to 3A flute, and that additionally could finish our folding carton boards," he said. "It was also important to us that the new machine would be reliable and upgradable to meet our future needs, which is why we have invested in the Kongsberg X24."
The Kongsberg X24 cutting table is renowned as the most versatile digital finishing device on the market. The combination of superior quality and a wide range of specialty tools delivers the speed, power and flexibility to handle a wide variety of materials, such as corrugated, folding carton, solid board, foam, coating blankets, wood and a long list of plastics.
Rafiq Shaikh, Kongsberg Precision Cutting Systems Sales and Service Leader, said that with the X24 in their set-up, Mr. Padmanabhan and his team can easily upgrade tooling options to meet growing and changing business needs. "The versatility of the X range means that tools can be added specifically to work with new materials, new applications, or deliver more capacity so that a business can add volume and enter new market segments," he said.
"Sree Lakshmi has already invested in the PowerHead tool, which helps induce 50kg downforce to crease anything from micro flute to 3A flute boards," he said. "The 150mm crease wheel ensures flawless creasing, producing die-like finish samples and helping deliver faster turnaround and approval, and the Multi-Purpose High-Frequency Knife tool can handle even recycled heavy-duty corrugated boards."
Rafiq said that the sample-making process helps manufacturers to fine-tune their designs and make necessary adjustments before full-scale production, reducing the likelihood of costly errors.
"The X24 also accurately registers the underside printed samples, ensuring perfect registration and finishing of the printed samples, while improving efficiency with less setup time and reduced wastage," he said. "The new machine also addresses Sree Lakshmi's need for strength, durability, and speed to ensure they meet the requirements of their customers."
For more on the Kongsberg X series or the entire range of digital finishing solutions and tools visit www.kongsbergsystems.com.