Kongsberg Precision Cutting Systems (Kongsberg PCS) will showcase the power, performance and versatility of its digital finishing solutions when it displays its X22 cutting table and range of innovative tools at this month's Printpack India.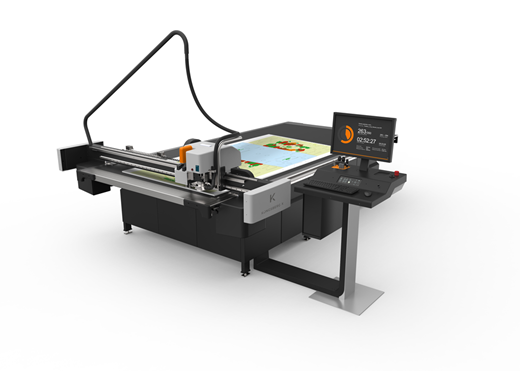 Across the five days of the event, to be held at the India Expo Centre & Mart in Greater Noida, from 26 to 30 May, the company will be delivering continuous demos of one of the most versatile digital finishing devices on the market - the modular Kongsberg X22.
Rafiq Shaikh, Kongsberg PCS Sales Leader, said: "With a complete range of tools on-hand, the Kongsberg PCS team will demonstrate to visitors how our digital solutions can tackle any job. They bring designs to life and improve productivity, efficiency and customer satisfaction for corrugated, board and folding carton converters.
"We're incredibly excited to have a presence at Printpack, one of the first events we've been able to attend in India since we launched as a standalone business just over a year ago," said Rafiq. "Throughout the event, we'll be demonstrating to our visitors how Kongsberg digital finishing solutions enable businesses to streamline workflows and automate production to boost efficiency, while the combination of power, precision and innovative tools empowers designers and operators with the creative freedom to generate the ideas that will drive the future of their business."
Rafiq said the Kongsberg X22 will be at the center of the Kongsberg PCS display, at booth 22D in Hall 9D. "In today's volatile market, where both customer demands and capabilities of technology change rapidly, it is important to invest in equipment that offers the flexibility to grow in line with business needs," he said. "The X22 delivers this, not just through its wide range of applications but also because it is a cutting table that can evolve.
"Packed with a wide range of specialty tools, the X22 offers speed, power and flexibility to handle a wide variety of materials and can easily be upgraded as a business grows," said Rafiq. "The team will also be demonstrating a range of versatile and powerful tool heads, including the PowerHead tool, which excels on heavy duty material such as honeycomb boards, triple wall and recycled board."
To see the Kongsberg X22 and various tooling solutions in operation, visit Rafiq and the Kongsberg PCS team at Stand 22D, Hall 9D at this year's Print Pack India, at the India Expo Centre & Mart in Greater Noida, from 26 to 30 May 2022.
For more on the Kongsberg X series or the entire range of digital finishing solutions and tools from Kongsberg PCS, visit
www.kongsbergsystems.com
.