"MultiCam has extraordinary market reach with its range of CNC routers, laser, plasma, waterjet and knife cutting machines. Acquiring the business enabled us to come together to drive best-in-class cutting and finishing processes, and we are looking forward to building on the success of this first year and delivering a tremendous advantage for our global customer base."
– Stuart Fox, President and CEO of Kongsberg Precision Cutting Systems

The 12 months since Kongsberg Precision Cutting Systems (Kongsberg PCS) acquired MultiCam, Inc., the U.S. manufacturer and distributor of Computer Numerical Control (CNC) cutting machines and digital finishing processes, has been eventful.
"When the deal was announced, we said we were excited to develop and expand the product portfolio and to create new opportunities to grow our tooling and consumables offering," said Stuart Fox, President and CEO of Kongsberg Precision Cutting Systems. "That's precisely what we've done. Over the last year, in addition to strengthening our hardware offering, we have made inroads into new markets, in areas previously not catered for that can now benefit from our market-leading solutions. We've achieved one of our key objectives in making sure our customers not only have the right machine for the job, but that they also get the best out of that machine."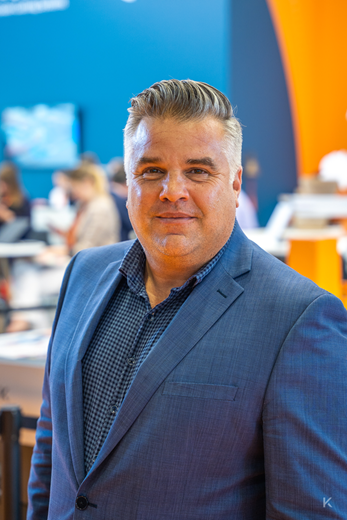 Kongsberg PCS acquired MultiCam in 2021, expanding the company's market reach and customer base across North America and Europe, and creating the world's first diversified provider of digital finishing and CNC cutting machines. In May this year, Matt Thackray was appointed Vice President/General Manager of the company's operations in the Americas.
"We were excited to demonstrate our market-leading machines at this year's PRINTING United Expo in Las Vegas," said Matt, who is responsible for the management of the commercial, service support and financial performance of the business across the USA, Canada, Latin America and South America. "We offered an impressive Super Booth experience at the show, with two adjacent booths from which we demonstrated both our market leading range of Kongsberg digital finishing tables and our MultiCam CNC machines.
"As well as our MultiCam Apex 3R CNC router and smaller Apex 1R, we used PRINTING United to showcase the latest innovation in the range, the Celero 4 Digital Cutting System. The Celero 4 flatbed cutter and router is uniquely designed for graphics, signage, display, and packaging applications," he said. "The wide format capabilities offer new applications to businesses, with the Celero able to cut up to one 10-foot roll or two 53-inch rolls side by side."
Matt said that following the acquisition by Kongsberg PCS, the company concentrated on building bridges within the organization. "It's important to us that we take the legacy of both the Kongsberg and MultiCam brands and build a single company with one culture," he commented. "After getting the synergies and standard processes together, we're now looking to capture as much of the market as we can."
To this end, the MultiCam team was recently at FABTECH, showcasing its range of solutions to handle any job and material, from CNC routers and digital finishing through to plasma, waterjet and laser cutting. "We used FABTECH to spotlight some of our new innovations," said Matt, "such as the Hypertherm XPR170, which expands plasma capabilities and opportunities of our 3000 Series CNC Plasma table and delivers next generation X-Definition™ processes from very thin up to mid-range thicknesses."
Demos throughout North America's largest metal forming, fabricating, welding and finishing event highlighted the power, simplicity and accuracy of MultiCam machines in cutting and routing a range of metals and other materials including acrylic, aluminum, sign foam/precision board, canvas and PVC.
Chris Rogers, International Sales Manager for MultiCam, said: "With our distribution partners around the world ensuring that Kongsberg PCS customers can now access MultiCam technology, we're enabling customers to produce the highest quality products faster, safer and more efficiently, maximizing their potential for creativity, sustainability and profitability.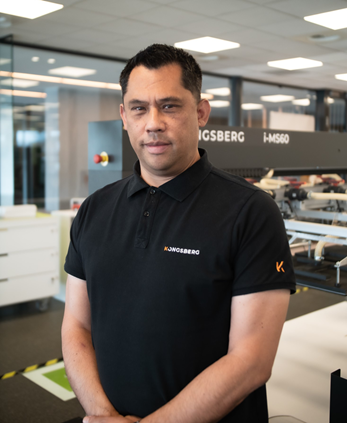 "Automation, ease of use and connectivity are hugely important to our customers and so by fusing technology and creativity we are delivering the solutions they need to meet these challenges head on, both today and into the future," said Chris.
Stuart Fox said the year since Kongsberg PCS acquired MultiCam had been an exceptional one, and the company now looked forward to realizing its ambitions for growth in 2023.
"We want to empower our customers, inspire creativity and drive innovation with best-in-class digital cutting solutions worldwide," said Stuart. "From the market leading products and services we offer, to the long-term trusted relationships we build, we are driven by our customers' success and committed to their future growth."
For more on the range of Kongsberg PCS cutting solutions, visit
www.kongsbergsystems.com
For more on the complete range of CN routing and tools from MultiCam, visit
www.multicam.com