Kongsberg Precision Cutting Systems (Kongsberg PCS) will demonstrate how its flagship Kongsberg C Series digital cutting table helps businesses automate for the future and bring designs to life at this year's IndiaCorr expo.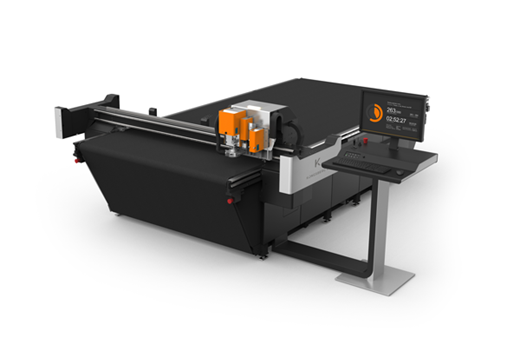 From 8-10 October, the company will demonstrate the power, performance and versatility of its digital finishing solutions to visitors at India's largest and most comprehensive corrugated event.
"The Kongsberg C24 delivers short-run production at the fastest possible speeds," said Rafiq Shaikh, Sales Leader and Service Leader for Kongsberg PCS. "With its high speed of 100m/min and 1.7G acceleration, the C24 is built for the highest performance, enabling businesses to boost productivity and astound customers with impressive, high-quality results and fast turnarounds.
"Fully upgradable for full automation and powerful enough to handle any task, we're looking forward to showing how Kongsberg PCS digital finishing solutions help businesses to find the balance between creativity and sustainability - bringing designs to life," he said.
The impressive Kongsberg C24 will be at the heart of the Kongsberg PCS booth, #A16 in Hall 4 of the Bombay Exhibition Center. "We are excited to be showcase how the digital finishing table and tooling options enable packaging and display businesses to streamline workflows and automate production to boost efficiency, while empowering designers and operators with the creative freedom to generate the ideas that will drive the future of their businesses," he said.
The Kongsberg C24 combines a steel tabletop with aluminum honeycomb core, a rack and pinion drive system and dynamic table mapping to deliver the greatest cutting accuracy and consistency. A maximum speed of 100 m/min (66 in/sec) and acceleration up to 1.7 G, combined with quick and precise tool movements, makes high quality digital production possible, even under the tightest deadlines.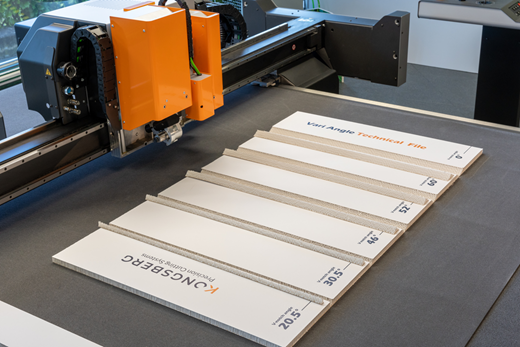 "We'll also demonstrate to visitors how a range of innovative Kongsberg tooling and automation delivers new freedoms in design and creativity," said Rafiq. "We'll be showing how the
VariAngle
tool enables cutting at any angle from 0o and 60o at high speeds, giving total creative freedom and delivering the advantage needed to stand out from the competition.
"We'll also show how our Dual Heavy-Duty Unit makes it possible to cut, crease and perforate a single job without the need to change tools," he said. "With 50kg downforce, converters can create even 3A fluted board, while the optional perforation wheel is perfect for finishing boxes efficiently."
Rafiq said the display would also feature the Kongsberg Rigid Material Knife Tool – a static knife tool suitable for a wide range of materials at high speed. "The Rigid Material tool can be used for everything from folding cartons and bubble boards widely used in the protective packaging industry," he said. "A large selection of blades makes it possible to diversify your business and cut lightweight detailed work through to heavy rigid board like plastic foamed PVC 3mm."
To see the Kongsberg C24 in action or to discuss digital finishing solutions, visit the Kongsberg PCS team at
Booth #A16, Hall 4
at this year's
IndiaCorr
event.
For more on the Kongsberg C series or the entire range of digital finishing solutions and tools from Kongsberg PCS, visit
www.kongsbergsystems.com
.