Kongsberg Precision Cutting Systems (Kongsberg PCS) has today announced a new agreement with Graphix Supply World (GSW), the leading African supplier to the sign, digital print, packaging, textile and graphics-related industries. The deal will see GSW handle distribution and servicing of Kongsberg solutions across South, Central and East Africa.
Under the new agreement, Cape Town-based GSW will manage all sales, distribution, and servicing of the complete range of Kongsberg digital finishing solutions, including spare parts and consumables, from its Cape Town headquarters.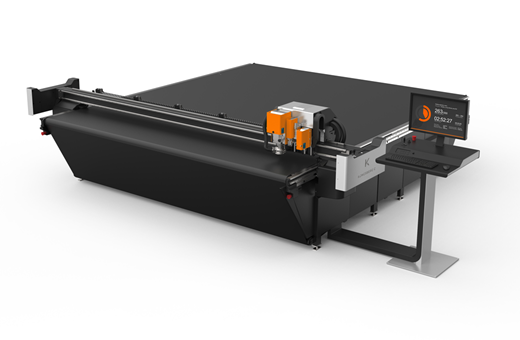 "This new agreement serves to strengthen the existing channel we have available for our customers in Africa," said Judd Perring, Kongsberg PCS Territory Sales Manager for Africa. "Not only will GSW be able to showcase Kongsberg solutions from its three demonstration centers across South Africa, but the experienced team will handle all sales and distribution for that country, as well as more than 25 other nations, including Zimbabwe, Mozambique, Botswana, Ethiopia, DRC, Kenya, Nigeria and Ivory Coast.
"With this partnership we are working to improve the experience for our African customers all along their sales journey," said Judd. "GSW will hold stock of Kongsberg consumables and spare parts at their centers in Cape Town, Johannesburg and Durban, and customers will now also be able to speak to a more local representative, helping to both improve their experience and potentially remove any delays."
Established as the leading one-stop graphics-related industry supplier in South Africa and Sub-Saharan Africa, GSW is committed to being a leading force to all graphics converters and manufacturers looking for quality and leading technology.
"At Graphix Supply World we are at the forefront of developments and technologies worldwide," said Adam Querido, Director with GSW. "We are dedicated to ensuring that customers are kept abreast of all technological advancements that are made in each of the industries we supply to.
"Under this new agreement, our dedicated team of technical support specialists can now assist customers with installations and implementation of all Kongsberg equipment to add value to their product offering," he said. "We are delighted to be further strengthening our relationship with Kongsberg PCS, the leader in its markets, and to be adding the renowned Kongsberg range of digital finishing solutions to our offering," he said. "In particular, we are very excited to add this industry-leading finishing equipment to our existing suite of products, which dovetails with our strategy of being a one-stop-shop for high-end printing solutions."
Stuart Fox, President of Kongsberg PCS, said the agreement was the latest under a planned strategic process moving Kongsberg PCS towards the most efficient and effective way to meet the evolving needs of customers.
"As we continue to deliver on our ethos of 'global presence, local service', partnering with GSW - with its long history and established network - ensures that Kongsberg digital finishing solutions can now be accessed by more customers and in more countries than ever before," he said.
For more on the entire range of digital finishing solutions and tools visit
kongsbergsystems.com
.
To find out more about GSW, please visit
www.gsw.co.za