Kongsberg Precision Cutting Systems (Kongsberg PCS) enjoyed record success at the recent FESPA Global Print Expo, achieving seven-figure sales of its digital cutting solutions across the four-day event.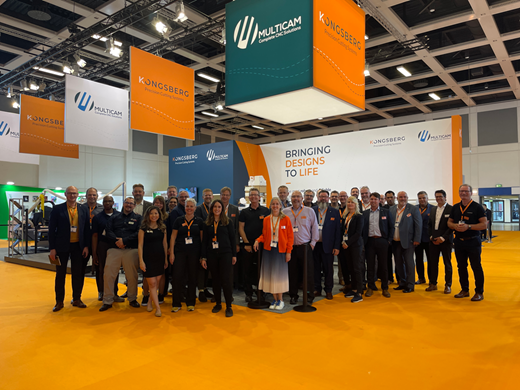 "It was fantastic to meet so many of our distributor partners and customers face to face at this year's event," said Wim Brunsting, EMEA Sales Director for Kongsberg PCS. "We were thrilled to be returning to FESPA to showcase our latest innovations. As the number of deals agreed climbed into double figures, it became clear that demonstrating how the power, performance and versatility of our digital finishing solutions bring designs to life had really hit the mark.
"With our display at Messe Berlin featuring the C Series and our modular Kongsberg X24 table, we were able to highlight the benefits and performance our systems deliver in cutting, creasing and folding a variety of materials," said Wim. "The result was a record number of sales agreed to supply digital cutting tables to customers across Europe and further afield."
Wim said a new flagship Kongsberg C64, with full automation, will soon be installed with a French customer, while a second will be travelling further afield to its new home in Serbia. "We also sold a number of Kongsberg C and X tables to customers in Italy, Ireland and Norway, as well as to converters in Turkey, Israel and United Arab Emirates," he said.
The Kongsberg PCS booth at this year's FESPA also featured the MultiCam Apex 3R CNC router, one of the most versatile CNC Routers on the market. "Following our acquisition of MultiCam last year, it was great to be able to showcase the Apex, which sets the standard for routing capabilities with its perfect balance between performance and precision," he said. "From our booth we were able to showcase how our complete range of digital finishing solutions enables sign and display businesses to streamline workflows and automate production to boost efficiency, while empowering designers and operators with the creative freedom to generate the ideas that will drive the future of their business."
The Kongsberg team also demonstrated how a range of innovative tooling delivers new freedoms in design and creativity, like the VariAngle tool - a breakthrough innovation for the industry that enables cutting at any angle from 0o to 60o at up to 100m/min.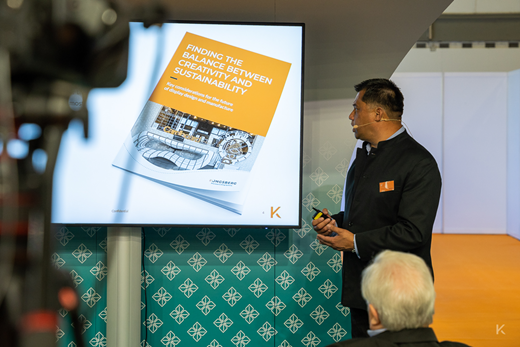 "As well as enjoying significant sales success, we were able to use our appearance at FESPA Global to demonstrate and explain the benefits our tooling range can deliver to businesses," said Wim. "We now look forward to following up all the many leads and opportunities that we have developed form our attendance at the expo and adding to our continued sales success."
Kongsberg President and CEO Stuart Fox was interviewed at FESPA, detailing the success of the company in its first year as a standalone business and discussing the company's presence at FESPA. Watch the interview
here
.
For more on the
Kongsberg C series
or the entire range of digital finishing solutions and tools from Kongsberg PCS, visit
www.Kongsbergsystems.com
.