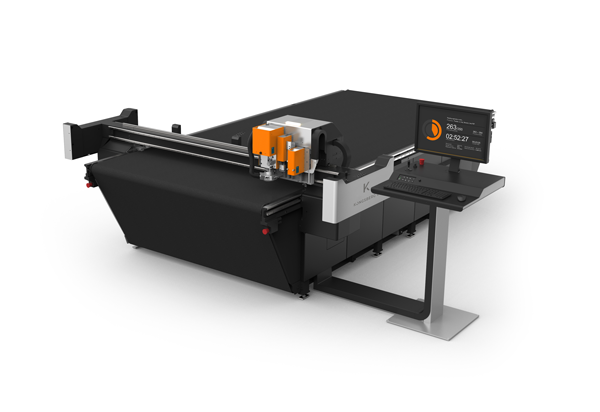 Kongsberg Precision Cutting Systems (Kongsberg PCS) will showcase its flagship Kongsberg C Series digital cutting table at the FACHPACK expo next month.
From 27 to 29 September, the company will demonstrate to visitors at the European trade fair for packaging, packaging machinery and packaging design how the power, performance and versatility of its digital finishing solutions bring designs to life.
"We're excited to be heading to Nürnberg to be part of this year's FACHPACK," said Wim Brunsting EMEA Sales Director for Kongsberg PCS. "With the impressive Kongsberg C24 at the heart of our 48m2 display, we will be running live demos showcasing how the digital finishing table and tooling options enables packaging businesses to streamline workflows and automate production. It's about boosting efficiency, while empowering designers and operators with the creative freedom to generate the ideas that will drive the future of their businesses."
Located at booth #638, Hall 7A, the Kongsberg PCS team will demonstrate how complexity in finishing is a thing of the past. "We have combined more than 50 years of technical expertise and innovation to deliver digital solutions that can handle even the toughest materials while delivering unerring precision," said Wim. "Automation is made easy, with the Kongsberg C24 – like all of our solutions in the C series. It is able to be automated for material handling, minimizing human error and improving efficiency and productivity."
The Kongsberg C24 combines a steel tabletop with aluminum honeycomb core, a rack and pinion drive system and dynamic table mapping to deliver the greatest cutting accuracy and consistency. A maximum speed of 100 m/min (66 in/sec) and acceleration up to 1.7 G, combined with quick and precise tool movements, makes high quality digital production possible, even under the tightest deadlines.
Wim said with three days packed full of informative and inspirational ideas, this year's FACHPACK is sure to be a huge success for Kongsberg PCS. "We're looking forward to meeting visitors and sharing more about how our latest developments in digital finishing solutions can help them bring their designs to life," he said.
To see the Kongsberg C24 in action or to discuss digital finishing solutions, visit the Kongsberg PCS team at Stand 638, Hall 7A at this year's FACHPACK.
For more on the Kongsberg C series or the entire range of digital finishing solutions and tools from Kongsberg PCS, visit www.kongsbergsystems.com