Appletree Printing has invested in the latest Kongsberg digital finishing technology as part of its commitment to offer more creative solutions while meeting demand for ever-faster turnaround.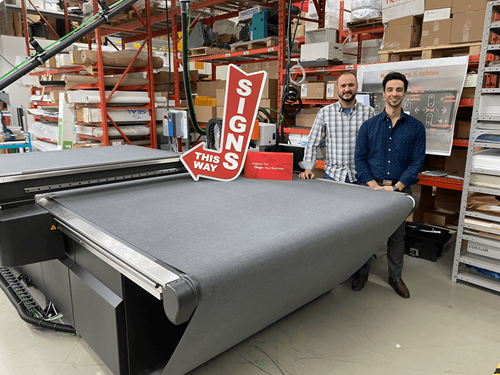 The Canadian operator, which over 25 years has secured a reputation for quality, value and on-time service from its base in Mississauga, Ontario, has invested in a new Kongsberg X24 Edge cutting table to bring all its finishing in-house. The new installation also includes the Kongsberg MultiCUT-HP tool and roll-off unit for roll-to-roll cutting, delivering incredible production speed and efficiency gains.

Shaun Frizzell, General Manager of Appletree Printing said the decision to invest in the digital finishing solution from Kongsberg Precision Cutting Systems was a simple one. "Partnering with our customers we provide unique solutions while at the same time becoming an extension of their creative process," he said. "We deliver this through our unique designs and innovative, custom manufactured products. With the Kongsberg PCS digital finishing solution, we now have the leading-edge technology at our fingertips that will help us to achieve our goals.

"With our new setup, we can ensure quicker turnarounds to deliver accurate products to our customers faster," he said. "We have increased productivity, and our extended capabilities mean our design team can now offer even more creative solutions. The Kongsberg has also allowed us to expand our large format and display offering, and opened up our capability to offer totally custom signage and fabrication."

Vince Tuccitto, Kongsberg PCS Territory Sales Manager for Eastern Canada, said the Kongsberg X Edge was the perfect solution to help Appletree take its digital finishing in house. "The cutting table delivers the tried and tested Kongsberg recipe of productivity and flexibility, combined with best-in-class reliability," he said. "What's more, the Kongsberg X24 Edge can be equipped for any application and is ready to grow with Appletree's business, without any compromise on performance.

"Delivering speeds of 30 m/min with acceleration of 0.3G, it can handle the full range of display, signage and packaging materials from kiss cutting vinyl to heavy duty milling," said Vince. "There is no sacrifice on machine configuration either, with all the options available that you would expect from the X-Series family. Importantly, as Appletree grows, the Kongsberg X Edge can evolve and can be easily upgraded in terms of both speed and acceleration to ensure it keeps up with Shaun's business demands."

Offering a full service from creation and design through to printing and binding, Appletree are experts in producing everything from multi-page newsletters, reports and booklets, through to letterhead, envelopes and note pads. "While we always provide great customer service and fantastic turnaround, we really specialize in rush printing to meet customers' needs," said Shaun. "But as we continue to grow our business, relying on outsourcing our finishing to vendors was leading to slower turnarounds.

"Not having the in-house finishing capabilities meant that our costs were higher, which meant we were not always being competitive," he said. "Not only would these costs eat into our own margins, but the lack of our own finishing equipment also limited our product offering to customers, which in some cases led to lost opportunities."

The new digital cutting solution is complemented by the Kongsberg MultiCUT-HP tool, delivering a fully automated solution for improved efficiency, productivity and accuracy.

"The MultiCUT-HP (High Power) is equipped with a super-strong, liquid-cooled milling spindle, which delivers several times higher productivity than less powerful alternatives," added Vince. "This is particularly useful for businesses like Appletree, that might need extended milling duty cycles or that work extensively with heavy-duty materials."

For more on the Kongsberg X Edge or the entire range of digital finishing solutions and tools visit www.Kongsbergsystems.com.

For more on Appletree Printing, visit www.appletreeprinting.ca.