Kongsberg Precision Cutting Systems (Kongsberg PCS) enjoyed significant sales success at All4Pack Paris after showcasing the power, performance and versatility of its automated digital finishing solutions.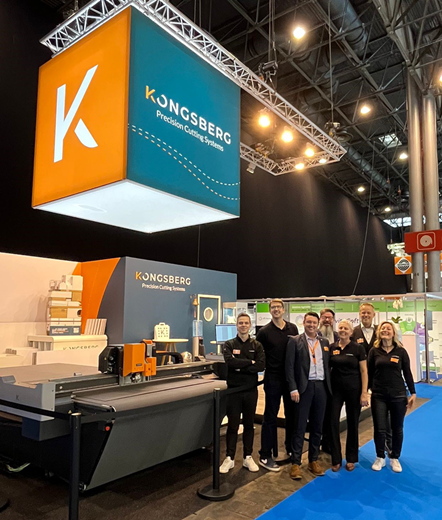 During the expo at Paris Nord Villepinte, Kongsberg PCS impressed booth visitors with a variety of live demonstrations of how its flagship Kongsberg C Series digital cutting table can simplify any packaging job while also bringing designs to life.
"This was a great show for us, and we were delighted to back up the great series of our demos with so much sales success in Paris," said Eric Espinasse, Sales - Channel Account Manager for Kongsberg PCS. "With our Kongsberg C24 at the heart of our display, we showcased how complexity in finishing is a thing of the past and how we've made automation easy," he said. "We had a fantastic response to the demonstrations and it was testament to the performance of the team and the machines that we completed so many deals at the event."
Eric said that amongst the many sales successes were agreements to install a Kongsberg C66 table at Celta Groupe Rossmann's facility in Courpiere, as well as to supply complete Kongsberg C64 systems with automated Feeder & Stacker to both La Mézière-based Cartonnage Bretagne Service (CBS) and Ateliers Seri 3's facility in Bressuire.
"These three sales alone just underline the importance of automation to today's packaging and display specialists," said Eric. "Delivering the ability to drive productivity and accelerate throughput while minimizing waste in terms of both time and resources is imperative to businesses looking to provide the most flexible response to their customers' needs. They are actively looking for solutions like the Kongsberg C Series that can achieve all this without compromising on quality."
Wim Brunsting, EMEA Sales Director for Kongsberg PCS, explained that the automated Kongsberg C digital cutting table with Feeder & Stacker minimizes human error and improves efficiency and productivity.
"With its stack height and quick automatic load cycles, the Kongsberg Feeder & Stacker is well-suited to handle any challenge our customers face, from short run production on a wide variety of materials through to longer runs and more complex jobs," he said. "The underside camera takes away the manual processes of checking each sheet and calculating registration marks. It scans each sheet from below, on the print side, and automatically locates the registration marks, barcodes and the corner of the sheet, which saves anything up to thirty minutes on each job set up, boosting productivity even further."
Wim said that this combination of speedy turnaround and flexibility to quickly adapt to specific customer demands gives Kongsberg automation users even more of an edge in the market. "Faced with demands for 'more, delivered faster and producing less waste,' automation is helping businesses not just survive in the current climate but to thrive," he said. "We are delighted that the All4Pack visitors were able to immediately see the benefits of the Kongsberg PCS automated system, and that we enjoyed such a successful event."
For more on the Kongsberg C series or the entire range of digital finishing solutions and tools from Kongsberg PCS, visit
www.Kongsbergsystems.com