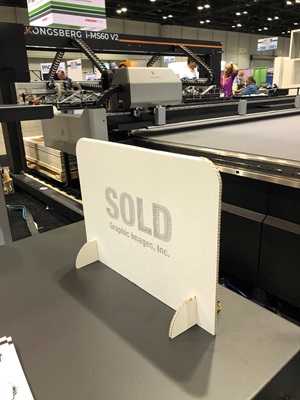 Customer so impressed with performance of C64 with Feeder and Stacker, deal was agreed in minutes
The Kongsberg Precision Cutting Systems ('Kongsberg PCS') team set a new gold standard for its own exhibition success, selling its booth centerpiece Kongsberg C64 digital finishing table with Feeder and Stacker within hours of the opening of this year's SuperCorrExpo event in Orlando, Florida.
"We had been incredibly excited to attend our first 'in person' event of the year with our cutting system, but I don't think anyone expected we'd sell the main exhibit on the first day!" said Heather Roden, North America Sales Director with Kongsberg PCS. "This was the North American exhibition debut of the latest version of the Kongsberg Feeder and Stacker. While Graphic Images Inc. might not be the typical SuperCorr attendee - with their business being environmental graphics and displays while this expo traditionally hosts corrugated packaging manufacturers – my colleague Rick LeBlanc had encouraged the owners to attend this year's event for our presentation.
"The on-booth demo highlighted the system's ability to operate fully unmanned," said Heather. "We demonstrated how the underside camera system reads QR codes and registration marks to ensure accuracy while dynamically moving from job to job on the Kongsberg C64 finishing table."

Following the demonstration, Rick - with the on-booth assistance of fellow salesman Allan Hanlon - conducted negotiations with Graphic Images owners Jerry Goudreau and Ryan Goudreau, with Heather agreeing the deal and shaking hands with the pair there and then.

"The Kongsberg C64 show system will be installed at Graphic Images' facility in Pompano Beach, Florida," added Heather. "Since the business is based in Florida - where the event is hosted - the complete Kongsberg digital finishing system will be in their facility within a matter of days. Our Technical Solutions Expert, John Wilson, even made a bespoke 'sold' sign using the table, which was proudly displayed for the remainder of the event."

Graphic Images' new Feeder and Stacker, which supports larger sheet sizes, greater stack height and complete Stacker plenum coverage, will be outfitted with the innovative Kongsberg underside camera system, while the Kongsberg C64 will be complemented by the VibraCut tool, which allows cutting at full machine speed through single and double wall corrugated board and other materials such as corrugated board, soft foam board and corrugated plastic. The addition of the Kongsberg Dual Heavy-Duty Unit will enable the operators to run corrugated jobs with cutting, creasing and perforation without changing tools, making production up to 70% faster.
"We are thrilled that Rick LeBlanc at Kongsberg PCS was so resolute in encouraging us to come to this year's SuperCorrExpo," said Ryan Goudreau, General Manager of Graphic Images Inc. "From the moment the demo began we were impressed with the Kongsberg's build quality and performance, and the enormous efficiency gains the Feeder and Stacker will deliver were obvious to see.

"As specialists in custom wide format signs, displays and custom packaging, the new Kongsberg digital finishing system will enable us to deliver against our customers' creative design concepts without compromising on quality, which is the cornerstone of our offering," he said. "We're looking forward to this new installation complementing our existing systems and to taking advantage of the efficiency, productivity and creative freedom it delivers."
For more on Graphic Images Inc. visit www.giprint.com
To find out more about Kongsberg PCS and its range of digital cutting solutions and tools, please visit www.kongsbergsystems.com.