Packaging Technologies Inc ('PTI'), the Ontario-based designer and manufacturer of corrugated containers and Point-of-Purchase displays, has become the first in Canada to install the innovative VariAngle tool from Kongsberg Precision Cutting Systems ('Kongsberg PCS').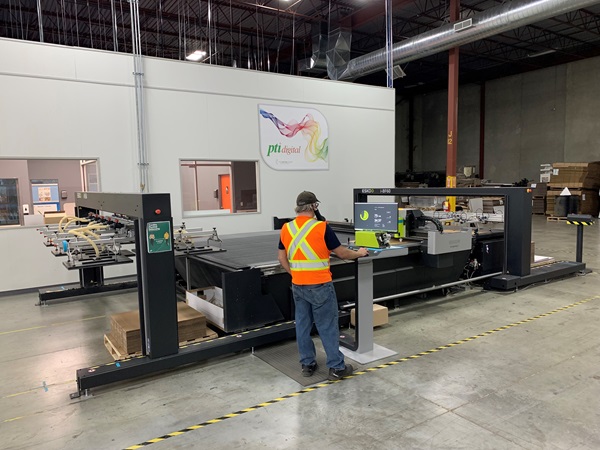 The VariAngle, which enables cutting at any angle from 0o and 60o at high speeds, has been installed alongside a new C64 digital finishing table complete with the Kongsberg automated Feeder and Stacker at PTI's Toronto facility. The acquisition is the latest for the business in an ongoing program of investment.

"We have an in-house design team that works with our customers to ensure we can deliver the impactful displays they want in order to achieve optimum standout," said Victor Jorge, General Manager of PTI. "With this investment in the VariAngle tool, we are removing historic constraints for our designers and giving them total freedom in the creativity of their 3D displays, maximizing our customer satisfaction while also increasing our own efficiency and productivity. Effectively the shackles are off, and we are able to create more unique products and deliver stunning looking displays and packaging."

As well as delivering unparalleled freedom in design, the Kongsberg VariAngle completely removes the need to stop production when changing or adjusting tools, drastically reducing setup time and increasing cutting speed. Fitting the tool makes Kongsberg C and XP tables completely self-sufficient and capable of delivering almost any creative design with automatic adjustment to any angle in half-degree increments up to 60 degrees.

"Previously, some of our designs might have needed three or even four different cutting tools throughout the production process," added Victor. "But now with the VariAngle, we have a single tool which cuts straight lines and multiple angles at up to 100m/min and can even cut angled curves depending on the radius size."

The VariAngle has been installed as part of complete digital finishing solution which includes the Kongsberg C24 cutting table. "The C Series is renowned for delivering the highest levels of performance," said Vince Tuccitto, Kongsberg PCS Territory Sales Manager for eastern Canada. "With state-of-the-art, rock-solid engineering and aerospace technology, the C24 combines an aluminum composite tabletop, a rack and pinion drive system and dynamic table mapping to deliver the greatest cutting accuracy and consistency.

"The new table is served by a Kongsberg board Feeder and Stacker, a pallet-to-pallet solution that enables Packaging Technologies to significantly increase productivity," said Vince. "With its stack height and quick automatic load cycles, it is the optimal solution for short run production on all typical packaging and display materials and can easily cope with the variety of materials Victor's team works with. The underside camera on the Feeder and Stacker scans each sheet from below, on the print side, and automatically locates the registration marks, barcodes and the corner of the sheet," he said. "This alone can save anything from twenty to thirty minutes on each set up."

Victor Jorge said the latest investment was part of the company's commitment to continuous improvement. "We have worked hard to create this culture at every level of the organization, he said. "Our workforce is made up of dedicated, long service industry specialist that truly understand customer expectations and take pride in ensuring complete customer satisfaction.

"Our high expectation of customer service is beyond industry standards and is recognized and valued by our long list of repeat customers," he added. "With this installation we are now able to deliver against even the most demanding customer's creative expectations, with a final product that we can be sure is of the finest quality."
For more on the new VariAngle tool, the Kongsberg C series or the Kongsberg Automate feeder & Stacker, visit www.kongsbergsystems.com.
For more on Packaging Technologies Inc, visit ptibox.com