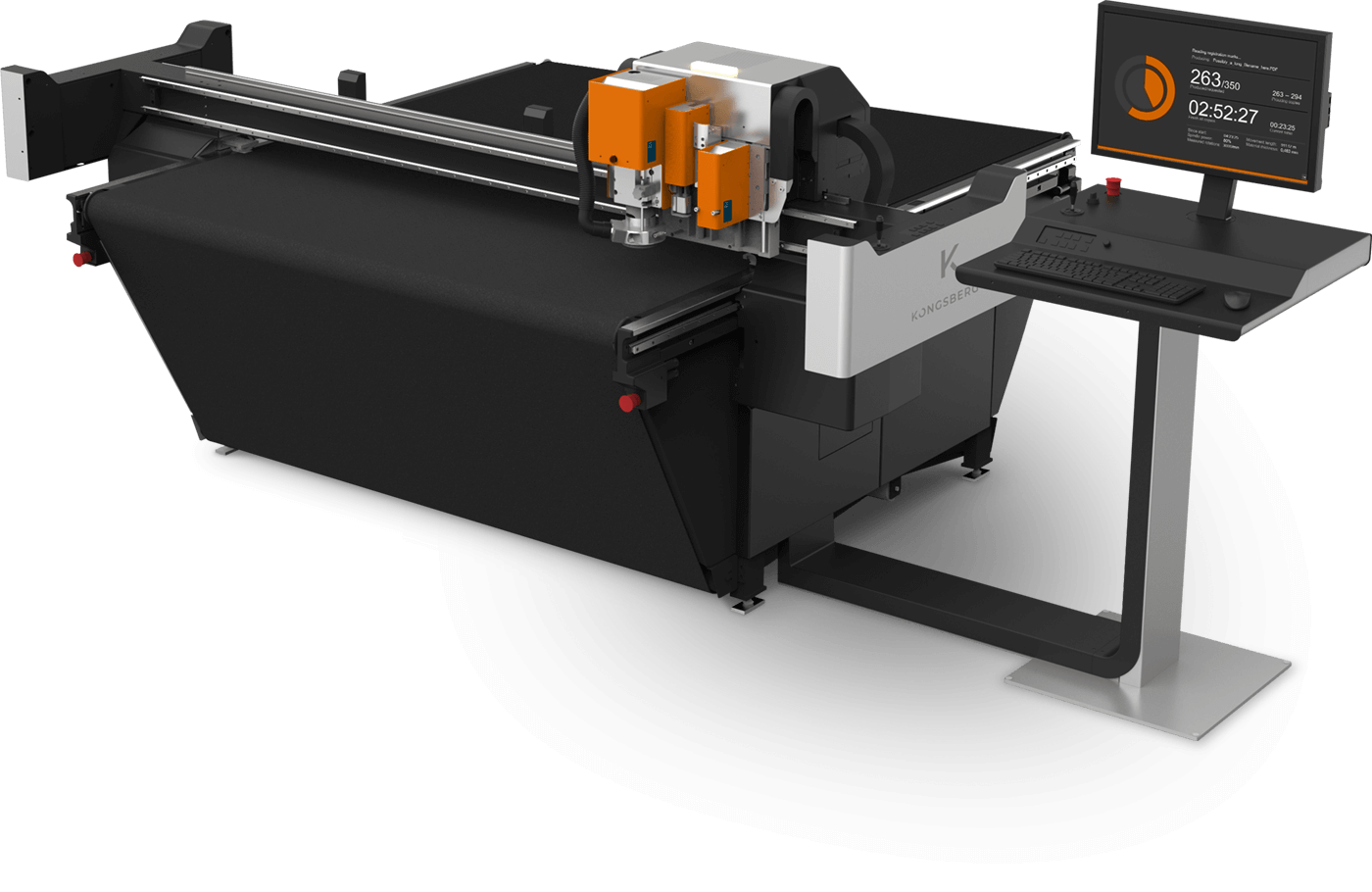 Kongsberg Precision Cutting Systems ('Kongsberg PCS') will be showcasing its latest digital finishing innovations when the FESPA Global Print Expo makes its eagerly-anticipated return next month.
Demonstrating how advances in technology can empower creative freedom in print, display and packaging manufacturing, Kongsberg PCS will be displaying its compact new C20 – the smallest high-speed production table on the market – together with the unique VariAngle Tool which enables cutting at any angle from 0° and 60° at high speeds. The Kongsberg PCS booth will also feature the company's impressive C64 digital finishing table together with Motorized Roll Feeder, giving attendees the chance to see how the combination simplifies continuous production of high volumes of wide format soft signage and textile jobs.
Held from 12 to 15 October, at the RAI Exhibition Center in Amsterdam, The Netherlands, this year's FESPA Global Print Expo marks the return of the live event following last year's postponement. "We're all hugely excited to be making our debut at FESPA, marking our first time at the event since becoming a standalone company earlier this year," said Wim Brunsting, Sales Director for Europe and the Middle East (EMEA) with Kongsberg PCS. "We will be demonstrating our latest digital finishing innovations and are looking forward to giving visitors the opportunity to get a close-up look at our advanced Kongsberg solutions as well as discussing our vision for the future."
Across the four-day event, the Kongsberg PCS team will be on hand to meet attendees, address questions and show a series of presentations and demonstrations at the Kongsberg booth - M70, in Hall 5 of the RAI Exhibition Center.
"While the new Kongsberg C20 is the smallest in the Kongsberg C Series range, visitors will be able to see first-hand how it packs all the professional features of its bigger counterparts into a compact size of just 1.6m x 1.4m," said Wim. "Both industrial and small sign shops require a high-speed cutting table to keep up with the manufacturing process but floorspace comes at a premium, with the high costs of owning or renting space a serious problem for many in the sign and display market," he said. "With the new Kongsberg C20, there is no longer any need for those businesses to compromise on production and quality due to a lack of available floorspace.
"With the VariAngle Tool fitted to the C20, historic constraints for designers are removed, giving them total freedom in the creativity of their 3D displays," added Wim. "Not only does this maximize customer satisfaction but it also helps to increase efficiency and productivity. The Kongsberg VariAngle completely removes the need to stop production when changing tools, drastically reducing setup times and increasing cutting speed."
The Kongsberg PCS booth will also feature one of its larger digital cutting solutions, the Kongsberg C64. "The C64 table delivers the highest levels of performance," said Wim. "Its state-of-the-art engineering and aerospace technology delivers the greatest cutting accuracy and consistency. Attendees can witness how, when coupled with the Kongsberg Motorized Roll Feeder, continuous production of high volumes of wide format soft signage and textile jobs are made simple."
With the Motorized Roll Feeder, innovative features work together to achieve the perfect final cut - even on the most challenging and tensile substrates. The built-in Kongsberg iPC software compensates for any distortion, while a curve registration algorithm determines exact cut size, taking into account all material properties for shrink, stretch or melting.
"We're incredibly excited to welcome FESPA visitors to the Kongsberg PCS stand and demonstrate how Kongsberg cutting solutions and the various tooling options can help realize the most creative of designs," added Wim.
The Kongsberg PCS team will be in booth M70 in Hall 5, at FESPA Global Print Expo, held October 12-15, 2021. Click here to find out more about Kongsberg PCS and its range of digital cutting solutions and tools.