Signage and corrugated businesses will discover how to achieve exceptional quality with the greatest cutting accuracy and consistency when Kongsberg Precision Cutting Systems ('Kongsberg PCS') showcases its high-speed C24 cutting table at the rescheduled C!Print in Madrid.
The Kongsberg team will be exhibiting at the event, now held from 26 to 28 April 2022, which attracts global visitors from the packaging, printing and technology sectors to the Pabellón de Cristal de la Casa de Campo in the Spanish capital.
"While we have enjoyed attending numerous virtual events and exhibitions over the past year, the opportunity to meet face-to-face again with customers, new and old, is exciting," said Stuart Fox, President of Kongsberg PCS. "C!Print is an event that attracts some of the biggest brands in the world. We're thrilled to be taking the Kongsberg C24 cutting table and innovative VariAngle tool to Madrid. It gives us an opportunity to highlight how this solution can help boost productivity and creativity for businesses looking to step up their sign, display and corrugated production."
With its high speed of 100m/min and 1.7G acceleration, the Kongsberg C24 is built for the highest performance, enabling businesses to boost productivity and astound customers with impressive, high-quality results and fast turnarounds. "The combination of state-of-the-art engineering, aerospace technology and quick and precise tool movements make high quality digital production possible, even under the tightest deadlines faced by today's converters," said Stuart. "Multiple tool combinations are available during production, depending on the materials you want to process, and Kongsberg C performance tooling further increases throughput and quality."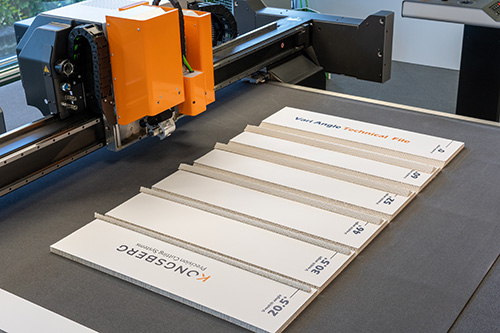 One such tool to be displayed at C!Print is the Kongsberg VariAngle. Amadeu Maurel, Territory Sales Manager with Kongsberg PCS, said: "This innovative tool enables cutting at any angle from 0° to 60° at high speeds, delivering total freedom in the design of 3D creative displays. It also completely removes the need to stop production when changing tools, drastically reducing setup times and increasing cutting speeds. Fitting the VariAngle tool makes Kongsberg C and XP tables completely self-sufficient and capable of delivering almost any creative design.
"Historically, some designs may have required three or even four different cutting tools in the production process," said Amadeu. "The Kongsberg VariAngle is a breakthrough innovation for the industry - a single tool which cuts straight lines at any angle selection in half-degree increments and at up to 100m/min."
Visitors to the Kongsberg PCS booth at C!Print will find the complete digital finishing system on display also outfitted with a wide-format roll feeder, which supports heavy-duty rolls of materials like textile and vinyl.
"We'll also be showcasing the power of the CorruSpeed tool, developed for cutting corrugated board at high speeds without oscillating," said Amadeu. "Operating with a crushing cup, which in combination with controlled down pressure makes it possible to use a drag knife without tearing or cracking the liner, the CorruSpeed tool achieves significant time savings on corrugated materials, even those with recycled content.
"We'll be demonstrating to C!Print visitors how the combination of the Kongsberg C24, VariAngle tool, CorruSpeed tool and roll feeder means that businesses don't have to choose between speed, precision and production power," he said.
The Kongsberg Precision Cutting Systems booth – D42 – will be hosted by Amadeu and the EMEA sales team, who will be on hand to share further information on the company's range of digital finishing tables, as well as the variety of tools and automation solutions developed to improve quality and efficiency.
For those unable to travel to C!Print Madrid, Kongsberg PCS will be taking the C24 and tooling options to the Portugal Print, Packaging & Labelling Expo. From 7-9 April 2022, the team will be at the FIL - International Fair of Lisbon, as part of the Induquimica booth. Then following C!Print Madrid, Kongsberg PCS will be joining Fujifilm at its booth at the Graphispag event in Barcelona, from 24-27 May 2022.
---
More info