Sven Govaert is Director Key Accounts & Strategic Partners. He is located in Ghent, Belgium.
1. What is your role at Kongsberg PCS?
As Director Key Accounts & Strategic Partners, it is my task to ensure the growth at our Key Accounts, as well to increase the business via our Strategic Partners. Furthermore, I am in charge for Italy where we are working exclusively with our Strategic Partner-Distributor B+B International.
2. What does a typical day look like for you?
Fortunately, every day is different, as I do like variation. These days I have more online meetings than I'd like, I am looking forward to be able to visit more customers and partners. My days are spent collaborating with my colleagues and in most cases with the procurement departments of our Key Accounts and Strategic Partners. I am also in charge for Italy, so I spend a lot of time speaking with my new best Italian friends Davide Dal Col and Filippo Frasson.
3. What aspect of your role do you enjoy the most?
In short, the collaboration with people. It is a pleasure to work with the colleagues, customers and partners and after every meeting I feel I have learned something. I have been working for over 14 years in different sales roles and prior to sales I was working in our service organization. I like the interaction with people in my roles.
4. What has been your favorite project at Kongsberg PCS?
At KPCS this must be the renewal of the Reseller Distributor Agreement with BBI. It has been a very interesting journey and it's a pleasure to have been able to further build on our existing collaboration and partnership.
5. If you could switch your job with anyone else within Kongsberg PCS, whose job would you want?
At this moment there are still some job descriptions we are missing at Kongsberg PCS, so who knows what my next adventure will look like. I would definitely like to be more involved with future developments - once an engineer, always an engineer you might say!
6. How did you get started in the business?
After graduating as an electro-mechanical Engineer, I started straight from school as a Field Service Engineer at a company called Barco-Graphics. I wanted to see the world and practice what I learned at school. At the time, I was one of the first engineers in Belgium to work full-time on the Kongsberg digital cutting tables.
7. How would you describe the company culture at Kongsberg PCS?
At KPCS we are all there to help each other. I believe we have the right mentality as we don't take no for an answer, we rather accept a challenge than to say no we can't. I really like that we have a "yes we can" culture.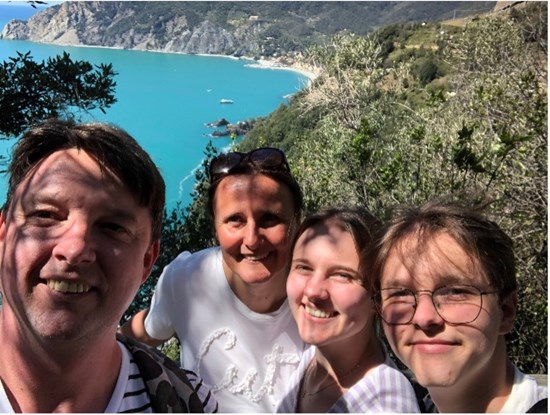 8. What would be your dream job?
If I would not be working at Kongsberg PCS, I would like to make a living out of renovating houses and selling them afterwards. When I am enjoying my summer holiday with my family, we fantasize together about creating a family business.
9. Outside of work, what's your passion?
I love karate which I started to practice together with my 14y old son, about 8 years ago. Furthermore, I like to go for a run in the morning to clear my head and prepare my workday. Besides sports I love to drive my motorbike alone or with my son. Since last summer I am studying Italian to keep up with my friends at BBI. Having 2 teenagers at home there is always something to do at our place.
10. What is your favourite quote or personal mantra?
"Live as if you were to die tomorrow. Learn as if you were to live forever". Mahatma Gandhi