Simon H. Kvanvik is R&D Project Manager and Systems Engineer with Kongsberg Precision Cutting Systems and works from Kongsberg, Norway.
1. What is your role at Kongsberg PCS?
As project manager I coordinate and participate in new and future developments. It is my responsibility that all technical deliverables in the Product Development Process are completed.
As a Systems Engineer I am also responsible for product specification, verification and validation.
2. What does a typical day look like for you?
Lots of different meetings, planning sessions and talks with the team. All with the focus of moving the respective R&D projects forward in the best way we can.
This includes everything from specific task planning, R&D resource allocation meetings, meetings with potential suppliers or development partners to participating in technical concept ideation and design reviews or writing product documentation. We are all working very cross-functional in the R&D department, and are a part of a products journey from the ideation to the hand-over to the factory (and even then we continue to take part in the products lifecycle by updates and maintenance). I also have many interactions with the product management team during a normal week, both to plan ahead and to talk about product strategies. Even though I work as project manager I still really much enjoy to do some hands-on tasks. I therefore work hard to stay updated on how to use the Kongsberg tables for different applications, and I join in on technical testing when I can.
3. What aspect of your role do you enjoy the most?
The fact that is so varied. I get a lot of different challenges both technical and administrative. If I would have to choose one part, it would have to be problem solving and coming up with technical or user concepts. Working together with the team to solve problems across disciplines is very much fun and is what led to the Dual HDU and the VariAngle.
4. What has been your favorite project at Kongsberg PCS?
I would have to answer the VariAngle project. Even though we changed the spec after TG2 and faced some unexpected challenges, it was a very interesting project to be a part of. It incorporated mechanical, electrical, servo control, SW and application engineering and required us to really use our brains. It was also a very good test of the product development process we use, and enabled the launching of a good product including documentation, training material and marketing media.
5. If you could switch your job with anyone else within Kongsberg PCS, whose job would you want?
Oh, that is a good one. Maybe someone with a similar role as mine on the MultiCAM side. It would be interesting to see the synergies and differences from how we do things in Kongsberg.
6. How did you get started in the business?
I actually did my masters degree in Systems Engineering while working for the Kongsberg R&D team. Back then, the R&D department joined a program with the local university where students get to graduate and work as engineers simultaneously. This was a natural step for me as I wanted some real-life experience after my bachelor. After those years were up I got a offer to stay on, and here we are some 7 years later.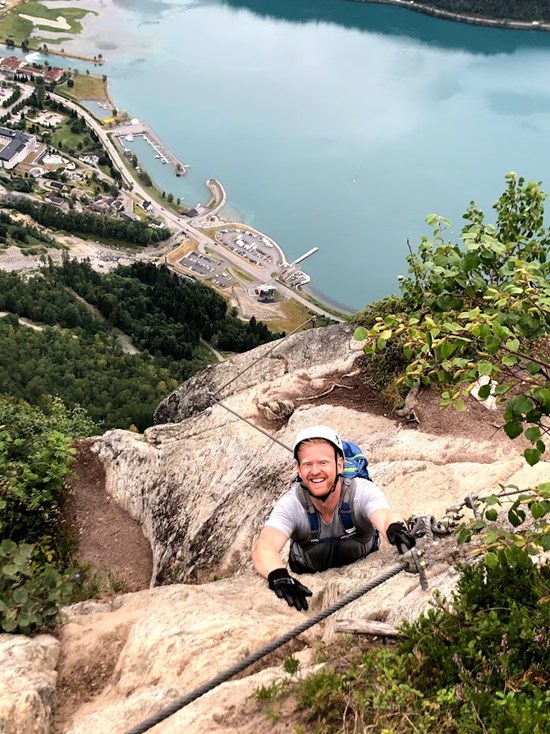 7. How would you describe the company culture at Kongsberg PCS?
The culture in Norway is very down to earth and open. All ideas and opinions are taking seriously. We are not a big team, but there are big age variations and people with different backgrounds which I really like and think is beneficial.
I think what we are trying to do now with learning more about each other across the company is great. And I look forward to not only having to meet with people over Teams. Although that is something we adapted to very neatly.
8. What would be your dream job?
Lottery millionaire would be nice? If that doesn't happen I must say the question is difficult. Maybe working like I do now, but for start-ups with exciting ideas within green energy or health-care.
9. Outside of work, what's your passion?
Passion? I think "mountaineering" or "outdoors activities" are some of the best words for it in English. In Norwegian I would call it "topp-tur", which translates to peak-tour. During Covid travel has been restricted, but luckily we have been allowed to travel internally and I have been on several road trips across the country of Norway and hikin up mountains. I also like home brewing and I do have a small dog called Ipa to fill my time.
10. What is your favourite quote or personal mantra?
Actually had to google this one, as this is not something I usually offer that much thought. But "…To the optimist, the glass is half full. To the pessimist, the glass is half empty. To the engineer, the glass is twice as big as it needs to be…" has a very nice ring to me.