Before the iPad, Apple brought out something called the Newton, a tablet that never took off. I use this story to illustrate that sometimes products are just ahead of their time. We can make things from sustainable materials and be super creative, but the customer has to be ready. Now, they are.
As the founder and CEO of Data Image Group, the UK-based large-scale print production house established in 1991, Robert Farfort knows how important sustainability is to the global brands his team works with across a wide range of market sectors. "The whole world is thinking about sustainability," he said. "Young customers today don't just buy a brand; they buy into the whole ethos and ethics of what's sat behind the brand. It's discussed literally every day, especially on social media.
"Our customers realize its importance, and say to us, 'we need to do this.' It's become such a common request that now we're measuring the carbon footprint of every graphic being delivered to every store."
Robert said the demand for sustainability through clearer traceability and increased accountability has evolved over time, as demand has increased from consumers. "Everything we do is in the retail world, so the drive is coming directly from the brands," he explained. "Consumers are pushing the brands and they pass that pressure on to us. So, today's challenge is very much about balancing ethics with shareholder profitability."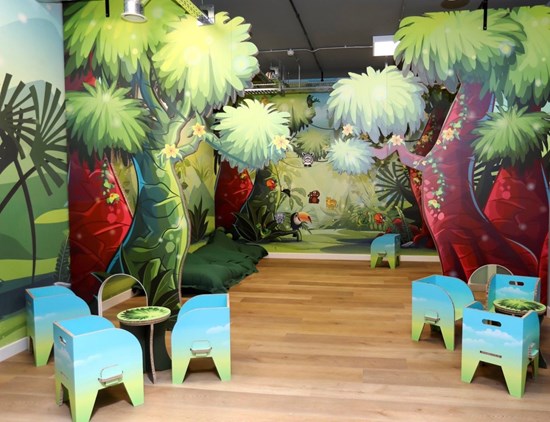 Evolution of needs – the readiness factor
"The development of new tools has unlocked the ability to be creative, but the tools themselves don't create the new ideas, they just free the imagination," said Robert. "And as we know, it can take time for people to understand the value of changing their habits. For example, we've all been in shops and seen a poorly constructed cardboard display unit for sun cream that looks like the leaning tower of Pisa. It is made from cheap material and doesn't look great by the end of the first day, but the brand is ok with it because the promotion only lasts for six weeks. So, while in theory it 'ticks the sustainable box' because it's made from cardboard, when we consider the costs of production, the transport and then the disposal - for hundreds of these things across the store chain – it no longer adds up.
"Thankfully, brands and retailers are now responding to consumer concerns, and they want to change their look and feel. The goal now is to have a display in store as long as possible. Because the consumer expectation has changed, product lifespan has become more critical to the customer. And that's the readiness factor – people have just not been ready to make the change, until now."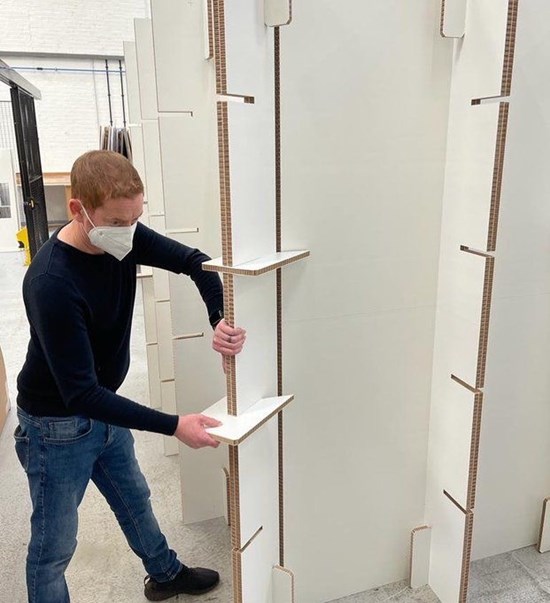 A global response on display
Following the return of trade shows and expos around the world, Robert said that the call for sustainable displays is rapidly increasing. "This is in response to a combination of consumer influence, brand response and legislation," he said. "The approach really has to be global to be effective, and that's now what we're seeing.
"We recently worked on an exhibition stand for an event in Las Vegas for a customer that had been impressed by a stand we'd built for a different client and wanted to recreate it," he said. "There is absolutely no gluing, no plastic fasteners or anything like that. Traditionally, exhibition stands have been built from wood and once the event was finished, they would just be thrown away. Well, this customer asked for a stand that could be used at 26 different shows!"
We're not trying to re-invent the wheel, just modifying what we've always done, essentially just keeping it simple but sustainable
Rober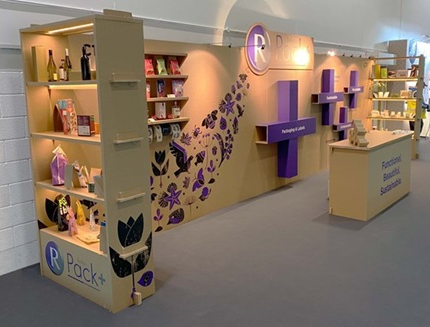 t pointed out that adapting the original design, Data Image not only made the stand in accordance with all the sustainability objectives, but also made it self-building and with no need for glue, instead using folds and T-junction locks. "Our R&D Manager designed a completely flat-packed stand, delivering all their requirements but also examining the carbon footprint of moving it around, and now they have a solution, which means someone is not making the same stand 26 times.
"Not only that, but the stand itself was 3m x 3m, which meant it would not fit in a single container and would need additional shipping. This adds to the costs of course, but also the overall carbon footprint. So, we looked at the design, made some adjustments to the construction process and reduced the size of the flattened materials down to 1.2m x 1.2m for shipping, making it easier, quicker AND cheaper to ship around from event to event.
"That's just a recent example. There are more of these events coming up and there is a clear demand there for stands like this," he said. "That's why we're innovating. We're not trying to re-invent the wheel, just modifying what we've always done, essentially just keeping it simple but sustainable."
Want to hear more from leading voices in the sector?
In our new whitepaper, we explore how material manufacturers and designers foresee negotiating the balancing act between meeting the creative needs of customers and delivering the sustainable solutions demanded by consumers around the world.
Below, you can download our new free whitepaper: Finding The Balance Between Creativity And Sustainability - Key considerations for the future of display design and manufacture